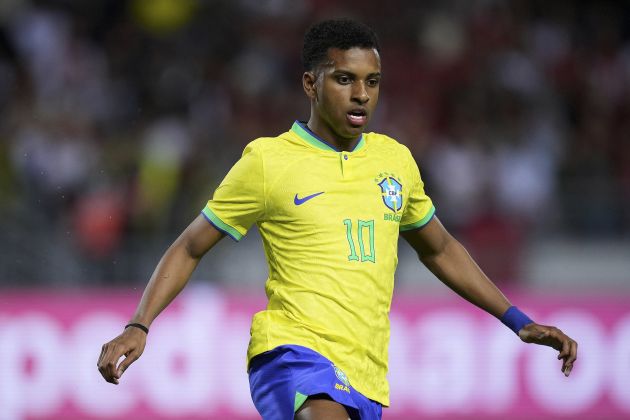 Real Madrid star Rodrygo Goes has opened up on his pride at being selected to wear the iconic Brazil No.10 shirt.
Interim Brazil head coach Ramon Menezes made the decision to give Rodrygo the number for this month's international camp due to an injury for captain Neymar Jr.
However, despite the connection with his teammate, Rodrygo holds the number in high regard due to its historical connection with Pele.
The former Samba Boys icon passed away at the end of 2022, with Rodrygo becoming the first Brazilian international to wear No.10 since his passing, and the significance was of vital importance for the 22-year-old.
"We (the Brazil team) are aware that we are known today, thanks to him", as per reports from Marca.
"It's an honour to follow that line of Pele and Neymar."
Rodrgyo also revealed he spoke to Pele, before leaving Santos to join Real Madrid in 2019, with the pair sharing the connection of both playing for the Brazilian giants.
"I went to his house before going to Real Madrid, and we had a very good talk. I already admired him before I met him, and after that conversation, I admired him even more."
Rodrygo started in Brazil's first appearance since bowing out of the 2022 World Cup, with a 2-1 defeat away in Morocco, with new captain Casemiro marking his big night with a consolation goal in Tangier.
Images via Getty Images
Source by Football Espana