In hist first public statement addressing Oliver Bierhoff's resignation, German national team head-coach Hansi Flick hinted that he and his staff are considering following the former DFB managing director out the door.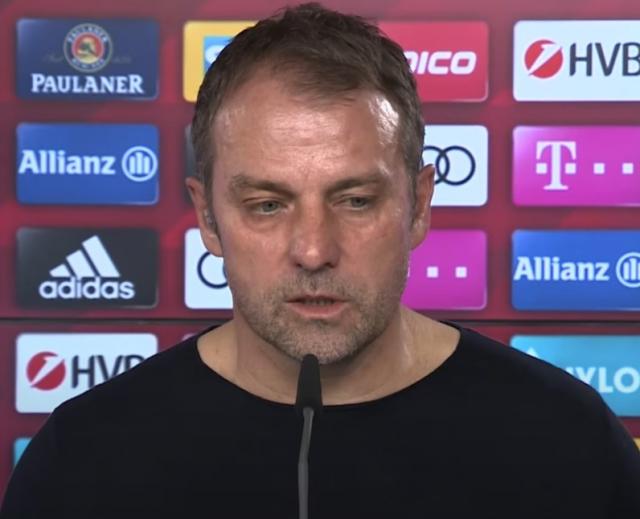 Bundestrainer Hans-Dieter Flick has let it be known that he was most unhappy with the departure of his close friend and confidant Oliver Bierhoff in his first public statement since news of Bierhoff's resignation broke late last night. On Wednesday morning, the German FA released a statement from Flick in which the national team head-coach lamented the decision.
"My staff and I are having a hard time at the moment imagining how the gap created by Oliver's departure can be filled, both professionally and personally," Flick noted in the statement, "Our cooperation was always characterized by loyalty, team spirit, trust and reliability. Cohesion bound us together on a molecular level."
"Oliver set standards high both professionally and as a person," Flick continued, "From the professionalization of the national team and its environment, to the numerous successes with the 2014 World Cup title as the apex, to the DFB Academy and Campus as part of a posterity project for the future. He moved a lot forward with the utmost personal commitment and against plenty of resistance."
"For me personally, Oliver was my go-to contact and friend within the program," Flick also noted, "We had as a common goal the 2024 European Championship in Germany. Oliver's focus was always and exclusively on the well-being of the national team, the DFB, and German football. I would like to thank him personally and as the national coach for this long collaboration and the invaluable trust it has created.
"This trust is and remains the highest asset in football," Flick concluded, "The last few days have not been easy, and I sincerely wish Oliver and his family the very best. German football and the national team in particular owe him an incredible amount."
Whether or not Flick resigns naturally remains to be seen. The former FC Bayern München trainer has not worked under a different regime at the national level. Flick initially served as a DFB assistant coach under Joachim Löw between 2006 and 2014 during Bierhoff's heyday. Flick coached his first national team game during the 2008 Euro quarterfinals, when Löw found himself suspended from the touchline.
Support for Flick among the German public remains strong.
The Bundestrainer's will to continue remains a different matter.
More about Germany
Streich comments on national team and chastises German punditry: "Better to switch TV set off."
Bobic on DFB rumors: "One can never rule anything out in football."
Confirmed: Hansi Flick to stay on as Germany coach
Tuchel named as a potential successor for Flick
Kicker Report: Bobic a DFB candidate following Bierhoff's resignation
Initial reactions to Bierhoff resignation: "He's done much more than most people probably realize."