In what would constitute a major administrative shake-up in German football, Germany's preeminent footballing publication reports that the DFL may be preparing to sack CEO Donata Hopfen over Christmas.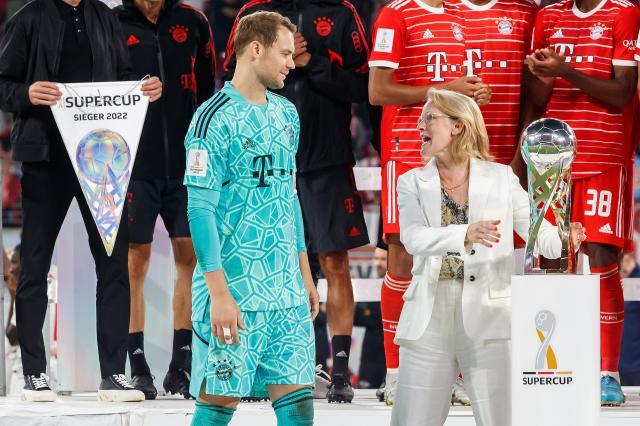 | | |
| --- | --- |
| Donata Hopfen presenting Manuel Neuer with the 2022 Super Cup trophy | Steffen Prößdorf CC-BY-SA 4.0 |
After less than a year in office, it may be the case that the corporation responsible for administering the top two German footballing divisions is preparing to sack current CEO Donata Hopfen. The historic first-ever woman to lead the DFL certainly didn't have an easy task to begin with. The former Axel Springer AG executive had the unenviable task of succeeding the popular Christian Seifert, who steered German football into a more successful global brand from 2003 to 2021.
Expectations on Seifert's successor were naturally very high. Hopfen was expected to take clear stances on the eternal 50+1 debates, build solid relations with the German federal government's Bundeskartelamt (Germany's business competition and anti-trust body), and lead an effort to fully digitalize all of the league's scheduling and international commitments ahead of a new global media rights package due to be negotiated in the summer of 2025.
Rainer Franzke of Germany's preeminent footballing publication, Kicker Magazine, writes that high ranking emissaries on the DFL's board (among them Dortmund boss Hans-Joachim Watzke) feel that she has fallen behind in these duties. Furthermore, Franzke writes that morale at DFL headquarters in Frankfurt is considered to be at rock bottom. There have reportedly been a wave of resignations over the past few months.
Terminating Hopfen's contract nearly two years ahead of schedule will obviously cost the German League body quite a bit in severance fees. As the DFL supervisory board prepares to meet this week, the question of whether this course-correction will be too expensive or ultimately economical will obviously be discussed. Frankze seems to nevertheless suggest that the decision has already been made.
Asked herself what level of support she had received from her colleagues during an October 31st interview with the magazine, Hopfen replied (as per Franzke something of a laugh) that "more is always possible". Should Hopfen be released, the German FA (DFB) will also find itself in need of a new vice president.
Related stories
Streich comments on national team and chastises German punditry: "Better to switch TV set off."
Report: Hertha cast eyes on Tunisian midfielder
Watzke discusses changes at DFL, DFB, and common defense of 50+1 rule