In an exclusive interview with Bulinews, promising Union Berlin talent Laurenz Dehl talks about his life and football in crystal clear detail. From his childhood in the German capital, making his Union Berlin debut, to loan spells with 3.Liga club Hallescher FC and Bohemians in Ireland, Laurenz discusses the highs and lows of a career still in its formative years, offering a fantastic insight into a footballer's world.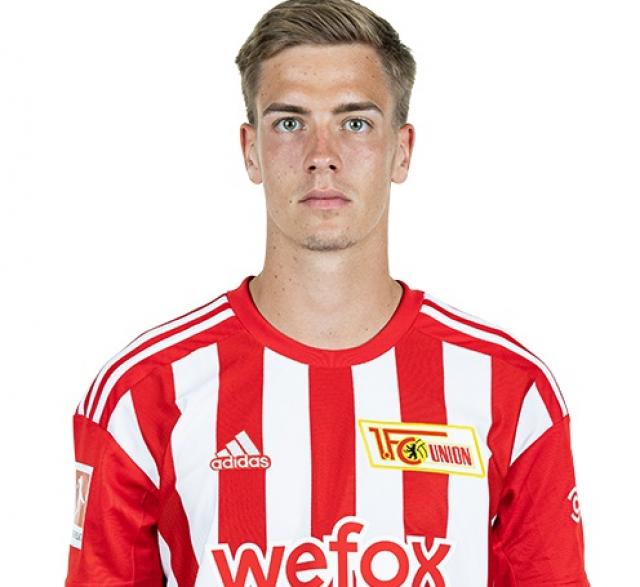 Photo: 1. FC Union Berlin
The early years
"I remember playing football in the garden," said Laurenz Dehl. His earliest memory of football dates to the tender age of three playing with a ball at home in Berlin. His father would often participate in the kickabout. Yet the idea of his son representing Union Berlin was undoubtedly the last thing on his mind until his talent was eventually recognised. Dehl would soon find himself climbing through the ranks at underage level, signing for his boyhood club, and challenging himself to the max during loan spells both in Germany and further afield.
While attending school, a suggestion to play for local club, SV Blau-Gelb Berlin, located in the north-east of Germany's capital became his first port of call. Despite SV Blau-Gelb being a multi-sport club with boxing, weightlifting, handball, and hockey departments, football was Dehl's sole interest. "At this moment I knew football is meant for me," said Dehl when speaking with Bulinews. Even today he struggles to imagine what element of life would suit him any better than playing 'the beautiful game'.
Footballing inspirations growing up greatly reflect Dehl's ability to play in multiple positions given the versatility in his own game. "I would say 'I'm Lukas Podolski'," he exclaimed when reflecting on his Kindergarten days. His classmates would fill in as Germany and Bayern Munich greats Bastian Schweinsteiger and Miroslav Klose. Back then, Lionel Messi and Cristiano Ronaldo came second fiddle, although Dehl believes we should appreciate them equally today.
Union Berlin bound
An Easter football camp with Union Berlin presented Laurenz with his next opportunity. "I was lucky my parents were this helpful towards me and willing to support my passion," said Dehl as he was routinely brought to and from training. Union's offer initially appeared impractical for the family living miles away in East Berlin. In the end, the hard work and commitment has been well worth it. The youngster represented Union's youth sides right the way up to Under-19 level demonstrating his exemplary talent. "I fulfilled my dream," smiled Dehl when referring to his senior debut in a 2021 UEFA Conference League Qualifier against Finnish side Koupion PS – however this was no ordinary debut.
UEFA regulations rendered Union's Alte Försterei stadium unfit for European competition. So, a first taste of competitive senior football ironically came at Hertha Berlin's Olympiastadion. Stepping out on Union's fiercest rivals' pitch didn't affect Laurenz in the slightest. The young German felt "overwhelming pride" knowing his parents, girlfriend, friends, and loyal Union fans were present for the occasion.

Union have been on an incredible rise since their stint in Germany's 3.Liga. The side from Köpenick have held first position in the Bundesliga this campaign, while also progressing from a difficult Europa League group. "It's crazy," exclaimed Dehl when discussing the club's impressive trajectory. The youngster believes Union's players, new and old, "inherit the DNA and goals" of the club which results in success. Dehl hailed the influence of "tactical genius" Urs Fischer, whose sharp mind and intrepid pre-game analysis enables 'Die Eisernen' ('The Iron Ones') to compete against any opponent.
Honing skills at Halle
Delving into his career, Dehl spoke fondly of his 20-21 season-long loan to 3.Liga side Hallescher FC where he bagged four goals and three assists in 22 appearances. "It was the perfect first step to gain experience," he remarked, knowing he was only 170km from home in Berlin. He had now left his immediate comfort zone to join a squad with varying age and talent throughout. "He made me feel very welcome and comfortable," said Laurenz when referring to experienced ex- 'Halle' teammate Terence Boyd, whom he learnt a lot from.
Playing against famous sides like Kaiserslautern, Dynamo Dresden, Hansa Rostock, and 1860 Munich were stand out moments for the then midfielder-come-striker. The 20-year-old considers his most impressive games as "key memories" in which he faced SV Meppen and KFC Uerdingen. The latter even had ex-Werder Bremen and Congolese international Assani Lukimya in their defence, whom Dehl bagged two assists against as a late substitute. A ninth-place finish for Hallescher signalled the end of an enjoyable loan spell for the teenager at a special club.
Building bridges with Bohs'
Back to summer of 2022, Union Berlin agreed a pre-season friendly with League of Ireland outfit Bohemians FC. This would seem like any other game to most, but the red and black clad team from Dublin's north inner-city would soon be in the market for a right back. At the time, Dehl was deep in discussion with Union coaching staff. They had agreed to work on a transition from his usual attacking positions to a full-back role – The stars were beginning to align in an unbeknownst manner
Laurenz recalls the friendly played in Köpenick vividly. Union was cruising to a 2-0 victory before Ali Coote grabbed a consolation goal for the Irish side. "Their [Bohemians] fans went crazy, they climbed on the fences of our stadium, and celebrated like they won the Champions League," said an excited Dehl. This struck a chord with the German who reiterated the importance of the sport for fans, and those who travelled to see their boys play in Berlin on this occasion. Fan atmosphere of course being an intrinsic component of German football culture too.
Coincidentally Dehl's willingness to explore loan options in order to ply his trade at right-back led him to 'Bohs'. A phone call with then Bohemians manager, Keith Long, tabled a loan offer from July to November which catered for both parties' needs. Union's Managing Director of Football, Oliver Ruhnert, felt an international loan to a European capital would be "the perfect challenge" which Laurenz would master. This he did, but perhaps not in the way he had imagined – Injury curtailed the Union man to a single league appearance against Dundalk.
Amazingly, this failed to deter Dehl from his enjoying his time in Ireland's capital. "I really liked the weather," Laurenz remarked. Exposed to the elements most days of the year, most Irishmen would probably figure this to be a joke! However, seaboard Dublin is remarkably cooler than the feisty, continental summer climate Berlin is subjected to. Dehl continued to say he found Irish people friendly and helpful, especially those linked to Bohemians. Living in Cabra East, a matter of minutes from Dalymount Park, he struck up friendships with Jonathan Afolabi and Junior Ogedi-Uzokwe. "Two very kind guys," Dehl added while another teammate, Conor Levingston, would occasionally offer him lifts to training.
Despite his one appearance in Dalymount, Laurenz was both shocked and delighted to have played on a pitch touched by greats like George Best and Pele. "I knew about the stadiums legendary background" he said, referring to Bohs' current and Ireland's once notorious international football stadium. Commonly referred to as 'Dalyer', the pitch played host to some incredible international matches between 1904 and 1990. Furthermore, Dehl has unintentionally followed in the footsteps of the late great Uwe Seeler.
A 404-goal Hamburg SV and German legend, Uwe played a single game for Cork Celtic scoring two goals in a 1978 victory over Shamrock Rovers. "I didn't know this! [referring to Uwe Seeler in Ireland]," replied Dehl. The plot further thickened when he mentioned that his Union Berlin teammate, Levin Öztunali, is the grandson of the man who participated in four World Cups between 1958-70.
Future aspirations
With the 2022 World Cup just around the corner, Laurenz insisted he will be cheering on his German compatriots closely. When discussing his future ambitions for coming seasons the answer was clear; "I want to be a regular player for Union". This answer made perfect sense considering it was his childhood dream. A dream to play for Germany on the world stage also lives large. However, Dehl demonstrated maturity beyond his years in his subsequent desire.
"I want to be remembered as a good person", he said, which has implications for life both on and off the field. He referred to an unnamed member of Union's squad whose tattoo bares the line 'Hard work beats talent'. Perhaps this mentality really does run deep within the DNA of Union players as Dehl concluded; "if you work hard enough you can achieve the goals you want to achieve".
While he might not return to Hallescher or Bohemians, and Dublin likely to stay as a holiday destination for now, the experiences will undoubtedly remain with Laurenz eternally. Still in the spring of his career at only 20 years of age, the sky is truly the limit. If Union Berlin's meteoric rise, and Uwe Seeler's career path is anything to go by, Laurenz Dehl is on the right track.
Related stories
Official: Frankfurt sign American teenager
Germany's World Cup stars: Thomas Müller
Netz confirms plan to head out on loan in January
Flick allays Klostermann injury fears
Flick praises Füllkrug after win over Oman