After a match that had significant ramifications for the 2022/23 Bundesliga relegation race, 1. FC Köln's Steffen Baumgart and Hertha BSC's Sandro Schwarz both commented on a result that might have gone significantly differently. 
The big talking point from this one, and possibly one of the biggest ones of the entire Bundesliga season, had to be Sargis Adamyan's miss of a sitter that could have drastically altered the outcome in the 15th minute.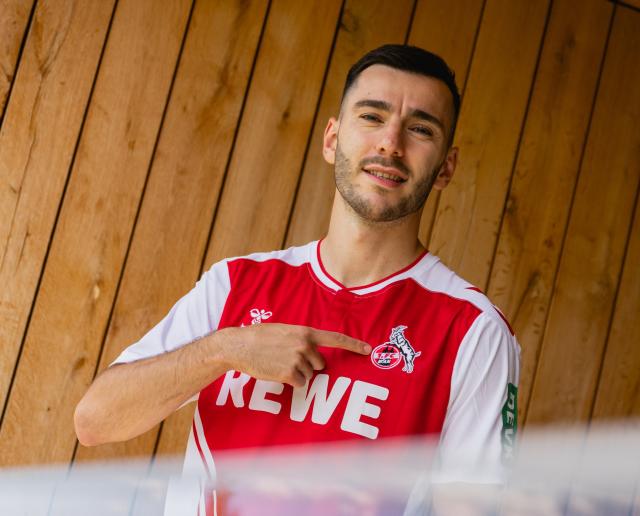 | | |
| --- | --- |
| Sargis Adamyan. | Photo: 1. FC Köln |
Hertha BSC will officially spend the winter break out of the relegation places. A 2-0 home win over 1. FC Köln ensured that Berlin's Charlottenburg side move up to 15th place in the table. Not far above them in 13th place on 17 points, Köln must grapple with the fact that they concluded 2022 on a five-match-winless run that featured three straight losses in the current "English Week".
"We're in a relegation battle now," Köln trainer Steffen Baumgart noted afterwards, "there's no need to beat about the bush. Everything else is window dressing."
The match might have unfolded very differently had the visiting cathedral city side been able to put three clear chances away during a ten-minute-span between the 15th and 25th shortly after Hertha took the 1-0 in the opening 45.
Köln striker Sargis Adamyan quite literally had the equalizer on his boot in the 15th minute. To the horror of the Geißböcke attacker, Adamyan missed a sitter from three meters out that fell into the "grandmother could score category."
"The ball hopped a bit," Adamyan said when explaining his miss to the Sky mics afterwards, "I hit it on the instep, but wanted to hit it with the inside – and then it just goes over the goaI. I thought to myself, 'that can't be'."
Adamyan would fail against Hertha keeper Oliver Christensen shortly thereafter. Linton Maina missed the third chance. Maina himself admitted that the team had a problem with "chance exploitation" in recent weeks during his post-match interview.

Baumgart was in a bit more of a forgiving mood.
"The guys are completely knackered," the Effzeh trainer remarked in a reference to the packed schedule forced upon his squad by the DFB-Pokal and the Europa Conference League group stages, "The only one who is relatively fit is me."
Asked specifically about Adamyan's miss, Baumgart said he had missed similar chances when he was playing. As "annoying" as the Kölner gaffer found the result, he insisted that he had "no desire to make too much of it."
Hertha trainer Sandro Schwarz also addressed the miss and even acknowledged that the state of his club's pitch caused the ball to hop up on Adamyan.
"The pitch played a role," Schwarz admitted afterwards, "I'm proud of my team for a passionate performance that erased the hammer blow against Stuttgart. We played intelligently at the back, but we know we have to improve on the little things to be successful."
Sargis Adamyan with the craziest miss, how on earth can you not score from there? 🤯pic.twitter.com/GkUy5qxNSG

— AJ Kutlu (@ajkutlu_) November 12, 2022
More about the match
Hertha BSC vs. FC Köln: Two sides in need of a victory
More about the teams
Leverkusen complete Rhinederby comeback victory over Köln
Bundesliga Tactics Talk: Round 14
Predicted Bundesliga lineups: Matchday 15
Report: Wolfsburg want Hertha's Mittelstädt
15:30 Kickoffs: Leverkusen conclude 2022 with three straight victories, Leipzig and Wolfsburg extend unbeaten runs