Berlin native Hany Mukhtar currently leads America's MLS in scoring and is considered perhaps the biggest candidate for MVP in the U.S. Football League. 
The 27-year-old recently sat down with Mario Krischel of German footballing magazine Kicker to discuss his unorthodox career path and thoughts on perhaps a return to Europe and the German national team.
Krischel couldn't resist reminding the Nashville F.C. striker that Hansi Flick remains on the lookout for lead-strikers.
The Berlin-native stands at the ready.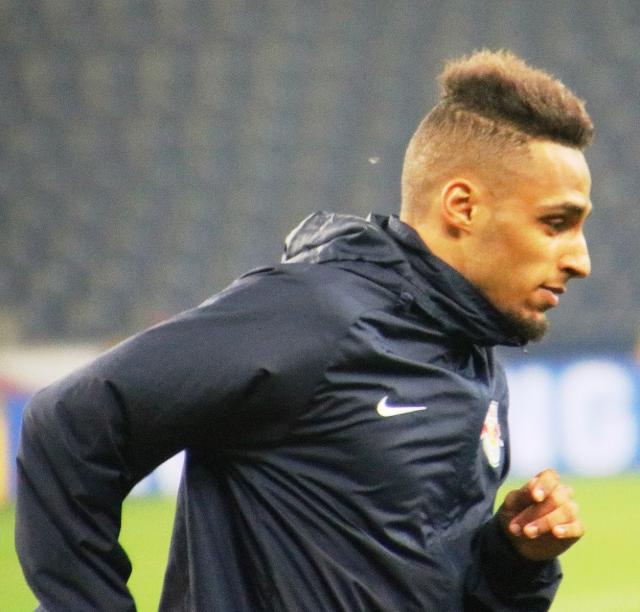 | | |
| --- | --- |
| Hany Mukhtar | Werner100359 CC-BY-SA 4.0 |
Robbie Keane. Landon Donovan. David Villa. Well-known footballers in any case. Additionally, a trio that have won the MLS MVP award. If he can keep his current form up, a German may soon join the Englishman, American, and Spaniard on this elite list. Hany Mukhtar is in the midst of another bang-up season for Nashville F.C. The Berlin native currently leads the league in scoring with 23 goals.
Mukhtar's very different career path eventually saw him make the jump across the pond some two years ago. The former German youth international still hasn't played for a German club since he left his hometown academy side Hertha BSC back in 2015. The path of professional footballers in Europe ordinarily leads from Austria or Denmark to the Bundesliga. Mukhtar went the opposite route.
After a short stint with Benfica, the capital city man played with Red Bull Salzburg and Brøndby IF. The attacking midfielder achieved more better than modest success in both locales, but really came into his own after heading to Tennessee just a couple of months prior to the beginning of the global pandemic.
"I've changed my style," the 27-year-old noted when recently speaking to Mario Krischel of German footballing magazine Kicker, "I hang out a bit [as the target nine] rather than working as a true playmaker. That suits me quite well. When you score so many goals in a season, it boosts your confidence."
Mukhtqar has seven assists to go along with his 23 league tallies this season. As a result, he's been involved in 60 percent of the goals his team has scored. Nashville head-coach Gary Smith recently declared that no other player was as valuable to his MLS side as Mukhtar.
"That makes one especially proud," Mukhtar noted when reflecting on that particular statistic, "It's a great feeling to be so important to your team. It's also a big responsibility. I have to deliver. That's what I was brought in for."

Mukhtar spoke of his initial career desire to play as a Mesut-Özil-like-ten. Nashville's plan to move him up to striker didn't initially seem like a good idea to him. When the coaching staff began showing him videos of Leicester's Jamie Vardy, his enthusiasm didn't exactly pick up either.
"I thought, 'he [Vardy] and I are worlds apart," Mukhtar divulged, "I was then told that I could become like him with my skills. I'm still nowhere near Vardy, but I got the message and it works."
While the focus for Mukhtar remained on finishing out the MLS season and performing well in American football's elimination-based post-season playoff system, the one-time German youth international also revealed that a return to the Bundesrepublik and potentially a return to the German national team remained in his mind.
Mukhtar has been heavily linked with a move back to the Bundesliga before.
"A man can dream," the 27-noted with something of a laugh, "No one knows what the future holds. Would it be difficult? Yes. Is it out of the question? No. I also wouldn't rule out a move to Europe. I've developed here and am in the prime of my career."
As to which Bundesliga club he would consider, Mukhtar took the nostalgic route straight back to Charlottenburg.
"Hertha is my home," he noted, "Hertha is may heart."
Irrespective of what happens next, Mukhtar made clear that his was happy to be in the U.S. and even more pleased to have recently signed a contract extension with his MLS side. The rather crooked career path to his present point, riddled with instances in which larger clubs dented his ego and forced him to learn humility, remained something that left Mukhtar pleased with how things worked out.
"I am grateful for every experience as also needed every one," he mused, "I believe that every setback makes you stronger. I once was a kid. Now I'm a grown man living my dream. I'm just so happy and grateful."
More about Hany Mukhtar
Philadelphia Union's Kai Wagner joins Nashville's Hany Mukhtar in mulling Bundesliga move
Mukhtar flirts with Bundesliga move
Related stories
Felix Nmecha firm on switch to Germany: "I want to play with my older brother."
Predicted Bundesliga lineups: Matchday 8
Report: Flick plans to include Wirtz in his World Cup squad
Reis touted as a possible succesor for Kovac at Wolfsburg