FC Bayern – Wolfsburg
Germany: Bundesliga
★

FC Bayern
⚽

J. Musiala (33),

⚽

T. Müller (44)
Allianz ArenaFull time2-0Attendance: 75.000
The team from Lower Saxony started brightly but it wasn't long before the Bayern juggernaut began to turn the screw, taking all three points in the process with goals from Musiala and Muller.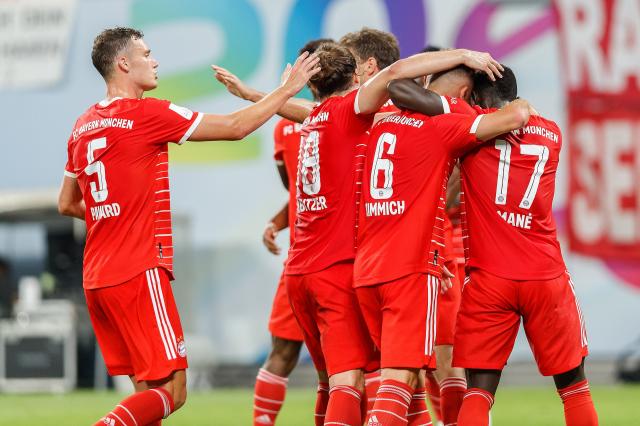 Photo: Steffen Prößdorf, CC BY-SA 4.0
After their demolition of Frankfurt last time out, Bayern Munich welcomed VfL Wolfsburg to a sun-soaked Allianz Arena to put a seal on the weekend's action for Bundesliga Matchday 2. Wolfsburg had a tricky first test at home to newly promoted Bremen last week, but they knew they were in for more of the same today up against the Bavarian giants.

The team from Lower Saxony took to the occasion brilliantly and looked threatening in the opening minutes. Patrick Wimmer, who unselfishly tried to head the ball across goal for Nmecha almost inadvertently created an own goal when Davies poked a toe to the ball which fortunately only went out of his own upright for a Wolfsburg corner. Pavard almost put Bayern ahead on 13 minutes when he directed Kimmich's corner onto the crossbar albeit the wrong side for the Frenchman.
Less than 20 minutes in and it looked like Bayern had opened their scoring account for the day when Mane converted from Gnabry's low cross into the box. After some quick consultation with VAR officials however, it was clear from replayed angles that the Senegalese star was in an offside position before turning the ball home to the empty net. The Bavarians didn't have to wait long until they did go in front – the 32nd minute saw Thomas Muller find Musiala on the edge of the box who pirouetted and hammered the ball past the despairing Casteels for 1-0. Pavard came close once more not long after although Casteels was more than a match for the fizzing effort on goal.
Just before the break and Nagelsmann's Bayern managed to double their lead. After some chaotic scenes in the Wolfsburg box with lots of last-ditch tackles and blocks, Davies finally found space and cut it back to Kimmich. The German midfielder's shot was diverted home by Muller whose deft flick gave Casteels no chance in goal.
Bayern interestingly made once alteration at the break – Gnabry left the field for Leroy Sane. Muller almost got his second of the evening on 55 minutes, but his strike dragged wide of the target and was covered by Casteels. The game took a one-sided turn from there on out. Bayern dominated proceedings in every facet from possession to shots on goal, while Wolfsburg seemed bereft of ideas and totally languid. With 20 minutes left to play Sadio Mane thought he had scored this time, but VAR was on hand once more to foil Bayern's new signing for a second time this afternoon.
Bayern afforded rests to key players like Mane and Musiala with a few minutes to go. Youngsters Gravenberch and Tel were given some game time in their place. Comfortable in the end for the reigning German champions who never really had to go up a gear from the middle of the first half onwards. Nagelsmann's side will travel to Bochum next time out while Wolfsburg will host Schalke and hope for a better outcome at the third time of asking.
FC Bayern
(4-2-3-1)
1

M. Neuer

(C)
5

B. Pavard

2

D. Upamecano

21

L. Hernández

19

A. Davies

6

J. Kimmich

18

M. Sabitzer

25

T. Müller

⚽

7

S. Gnabry

↪46

42

J. Musiala

⚽

↪83

17

S. Mané

↪80
Bench
26

S. Ulreich

10

L. Sané

↩46

39

M. Tel

↩80

4

M. de Ligt

20

B. Sarr

23

T. Nianzou

40

N. Mazraoui

44

J. Stanisic

38

R. Gravenberch

↩83
Wolfsburg
(4-5-1)
1

K. Casteels

20

R. Baku

3

S. Bornauw

4

M. Lacroix

5

M. van de Ven

39

P. Wimmer

↪46

27

M. Arnold

(C)

↪83

29

J. Guilavogui

32

M. Svanberg

↪61

33

O. Marmoush

↪68

10

L. Nmecha

↪84
Bench
12

P. Pervan

7

L. Waldschmidt

↩68

9

M. Kruse

↩46

17

M. Philipp

6

P. Otávio

8

A. Vranckx

↩83

14

J. Brekalo

↩84

16

J. Kamiński

22

F. Nmecha

↩61