At the tail end of training camp, New Arminia Bielefeld trainer Uli Forte has opted to make veteran Fabian Klos the squad's sole captain.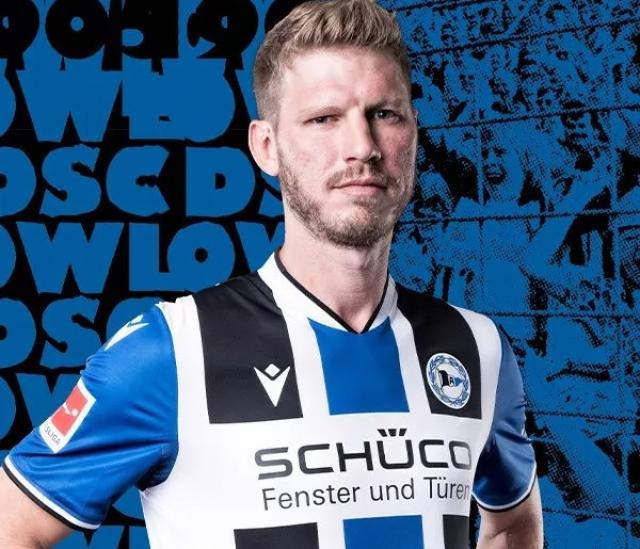 Photo: DSC Arminia Bielefeld
From near retirement, to a horrific head injury, to a most unexpected extension of his contract, it's already been a whirlwind three months for 34-year-old Bielefeld legend Fabian Klos. Now, the story gets even stranger. The DSC confirmed that the striker (previously an alternate captain behind Manuel Prietl) will be reinstated as skipper.

New Arminia coach Uli Forte explained that the coaching staff had come to the decision unanimously, opted to forgo a vote within the team.
For me, the captain is the extended arm of the coaching staff," Forte noted on Sunday, "If the team elects the captain with ballots in a pot, even the third choice keeper gets a vote. That's why we wanted to decide it ourselves."
Klos will be returning for his 12th consecutive season in East Westphalia. He's represented the club in all three German professional footballing tiers. Forte cited this as the primary reason Klos was chosen.
"The captain must know the environment, he must know the team, must know how the club works, how it ticks," Forte added, "And Fabi has all those components. He's been here for so long."
After major surgery to repair his fractured skull, Klos will have to permanently wear a protective mask for the duration of his playing days. It speaks volumes to Klos' character that he never left the training facility of the relegated club even as others went on vacation.

"While everyone was lying about the beaches of the world, he [Klos] was rehabbing here," Forte noted, "For us, there was no discussion really. We settled on Fabian Klos right away."
Fabian Klos wird in der Spielzeit 2022/2023 erneut unser Kapitän sein.

Manuel Prietl, Oliver Hüsing, Stefanos Kapino und Freddy Jäkel ergänzen den Mannschaftsrat.#immerdabei pic.twitter.com/p0H2o8a1ha

— DSC Arminia Bielefeld (@arminia) July 2, 2022
More about Fabian Klos
Fabian Klos extends his Bielefeld fairy-tale
Bundesliga Tactics Talk: Round 33
Bundesliga Tactics Talk: Round 29
Bielefeld confirm major surgery for Klos
Well wishes for Klos come first after Stuttgart-Bielefeld draw
Bundesliga Tactics Talk: Round 27
More about Bielefeld
Top 25 confirmed Bundesliga transfers for the 22/23 season
Official: Stefan Ortega joins Manchester City
Stefan Ortega to join Manchester City, according to Kicker
Confirmed: Leipzig's Jäkel to Bielefeld on one-year-loan
Report: Leipzig prepare to ship out Germany U21 prospects Martel and Jäkel
The genius of Stefan Ortega