Speaking to SV Werder Bremen's main fan-site, Deichstube.de, club sporting director Frank Baumann expressed optimism about shoring up the squad in time for the return to the top flight.
It will certainly be a less active summer with regards to incoming transfers, but Baumann noted that the club had its targets and would make its moves earlier than last year. 
The club announced on Tuesday that veteran keeper Jiri Pavelenka would be retained for the top flight.
Negotiations to bring in Leverkusen loanee Mitchell Weiser on a permanent deal continue whilst German youth prospect Lars Lukas Mai is definitely headed back to Bayern München.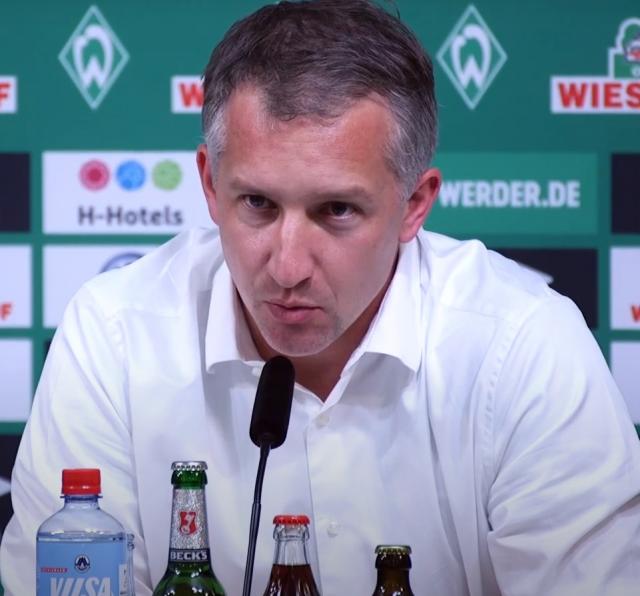 Last offseason, SV Werder Bremen were effectively the laughingstock of German footballing circles after failing to get their squad reshaped in time for the beginning of the 2. Bundesliga campaign. Far fewer consider the club's management a joke after the Hanseaten secured automatic promotion back up to Germany's footballing Oberhaus after just one season on Sunday.

SV sporting director Frank Baumann's decision to play the waiting game before selling off players such as Milot Rashica, Josh Sargent, Ludwig Augustinsson, and Maximilian Eggestein. The club was ultimately able to net a total of some €30 million from the quartet.
Prudently enough, only about €4 million was invested in restocking the roster for the second division. Most of this went to the purchase of striker Marvin Ducksch, possibly one of the best transfers in all of German football this past year.
In a recent interview with Bremen fan-site, Deichstube.de, Baumann still acknowledged that the time it took to shore up the roster last year wasn't ideal. Even if it may have brought some extra benefit to the club, the 46-year-old vowed that the administrative team would work quicker this time.
"We have clear notions in mind about how to proceed and which positions we wish to target," Baumann said at a recent a media roundtable "We want to have the  core of the squad together significantly earlier than last summer."
Bremen may technically have a transfer balance of close to €30 million on hand from last summer, but the salary budget of the club cannot equal where it was during the 2020/21 relegation campaign. Baumann talked specifics on this point.

Whereas the Hanseaten had a salary budget of around €47 million whilst in the top flight, the front office aims for one closer to €30 million for the coming campaign.
"It's well known that we can no longer match the budget we had before relegation," Baumann noted, "We are still optimistic that we can convince interesting players to join us."
Perhaps the most important decision for Baumann to make concerns what to do with defender Marco Friedl, still worth between €3 and €5 million as he enters the final year of his contract. Baumann held off on selling the 24-year-old Austrian international last year, but may wish to reconsider cashing in now.
In terms of additions, Baumann revealed that there would be less incoming talent this summer. In the sporting directors own words, the roster already has "a basic framework of players". The Green-Whites have already secured the services of FC Augsburg U19 captain Dikeni Salifou. The defensive midfielder comes on a free.
According to German footballing magazine Kicker, talks to bring former Karslruhe and Ingolstadt attacking midfielder Pascal Groß back to the Bundesliga have stalled. A transfer fee of some €7 million might be due in order to secure the services of the 30-year-old; something that might eat up way too much of Bremen's outlay budget.
The Hanseaten are, in fact, already on the hook for some €400,000 to Holstein Kiel for picking up trainer Ole Werner whilst the Storks held him under contract. According to some sources, Bremen paid €250,000 in transfer fees at the time of hiring. A further bonus payment–€150,000 according to Deichstube–was agreed upon in the even of promotion.
"Of course, we will gladly transfer the money," Bremen's managing director Klaus Filbry (reportedly with a smile on his face) noted when speaking to Germany's Associated Press on Monday.
Bremen recently renewed with keeper Jiri Pavlenka, affirming that the Czech veteran will be their first-choice gloveman in the top flight. The Hanseaten still wish to keep Leverkusen loanee Mitchell Weiser.
German youth prospect Lars Lukas Mai, who did see plenty of action for Bremen earlier in the season, will be headed back to Bayern München after his appearances declined during the season's second half.
---
Related stories
Fürth unveil Marc Schneider as new trainer
Schalke offseason plans: Five confirmed outs, links with Krauß and Ortega surface
Köln introduce Kilian as permanent player: "At FC, I have everything I need."
Union complete Leweling signing
Lindstrøm passed fit for Frankfurt's Europa League final clash with Rangers